Two new birds (common swift and white-winged tern) recorded on Bonaire in 2020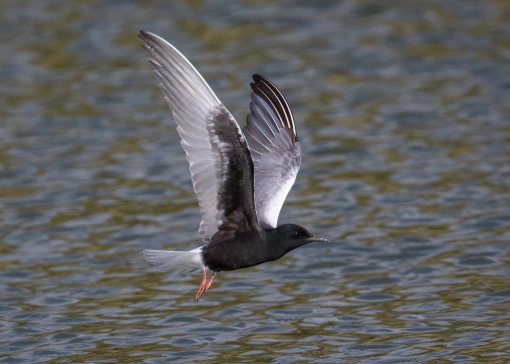 In 1983, when the second edition of 'Birds of The Netherlands Antilles' by Dr. K.H. Voous was published, the number of birds recorded on Bonaire stood at 181. Since then, this number has grown steadily to 237, averaging three new birds reported every two years.
In May of 2020, local birders Spike Stapert and Steve Schnoll spotted and photographed a unique swift. With the help of several experts, including Peter-Paul Schets (reviewer for eBird-Bonaire) this individual was identified as a Common swift, common and widespread in Europe, but rare in the Caribbean. There has only ever been one other confirmed sighting in the area, a record from Suriname dating back to 2012.  Not only was this a new species for Bonaire, but for ABC islands and for the Caribbean as well!
Steve Schnoll was birding at Bonaire Sewage Works (LVV) on the early morning of June 12th 2020 when he noticed an unfamiliar small tern which was hovering over the main pond. This tern was mainly black with a black bill, red legs, mostly white wings and a white tail. Thanks to some well shot photographs, this bird was later identified as a White-winged tern in breeding plumage, a first for Bonaire as well for ABC islands. It stayed for a week at the same location, enabling a few other lucky birders to observe this graceful and delicate bird.
This tern represents species number 237 for Bonaire. Interestingly, of the 15 new species found on Bonaire since 2016, seven were found at LVV ponds, three of which were new for ABC islands. Thanks to these freshwater ponds, this area seems to be a magnet for rare birds.
Bron
Schets, P.P. 2021. Twee nieuwe vogelsoorten gerapporteerd op Bonaire in 2020. In: Dutch Caribbean Species Register. 28-May-2021. [link]